COVID-19: We are still open and testing during the COVID-19 outbreak.
We might be little slower than usual at times.
Cerebellar abiotrophy marker (LINGO3) (CA: LINGO3)
Summary
Cerebellar abiotrophy (CA) has been reported in working Kelpies. Dogs affected by CA can show head or neck tremors, problems with their balance, exaggerated or erratic leg movement and problems eating or drinking from a bowl.
This test (CA: LINGO3) is associated with a form of CA that usually becomes evident in pups between 4 and 8 weeks of age.
A positive result for this test (T T) does not guarantee that your pup will develop early-onset CA, but it is a strong guide. In the original study, 16 of 19 affected pups had a T T result for this marker, while only 19 of 146 healthy dogs showed the same T T result.
The other possible results for this test are T C or C C. Dogs with a C T result do not have a high risk of CA but can potentially produce T T pups.
This form of CA has been found in border collies as well as Kelpies.
Gene or region and technical reference
Gene: LINGO3 (marker). Reference: Pan. (2017) Thesis
Reported alleles
C. Test developed using manufactured DNA, animal controls.
T. Test developed using manufactured DNA, animal cases.
Panels: groups of tests that are often ordered together
This test is in the working dog CA panel.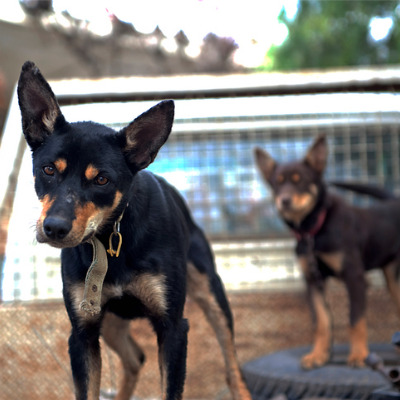 CA can become obvious in pups as young as 4 weeks old.